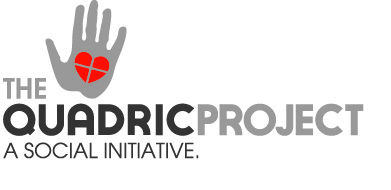 As an 'integrated' contractor with capabilities of performing much of our work in-house, we are in the unique position of being able to not only promote corporate social responsibility, but also to engage in it in a way that affects change. Quadric has been a supporter of charitable endeavours and a facilitator of connections between our staff, contractors, and those in need; for the last 30 years; including Red Cross, Unicef, Sporting Wheelies, Careflight, and many more.
In January 2012, we took things a step further with the launch of 'The Quadric Project' : an exciting venture which aims to formalise Quadric's philanthropic endeavours and further engage in dialogue and assistance between ourselves and charities. We work with both major NGO's and small grass-roots organisations to deliver assistance in the form of money, time, and goods and services.
To start the ball rolling, each year Quadric donates 1% of company profit to the project, with the opportunities that arise from this making the idea really special. It connects furniture from our clients to non- profit offices, it allows staff to volunteer their time, it raises xmas gifts and supplies for needy families, it assists subcontractors to lend their services for shelters, and most importantly gives us all a sense of community.
Sounds like something you want to be a part of?  We are searching for:
– Quadric Project Advocates (individuals from a range of backgrounds who can commit to regularly volunteering their time to this worthy cause to promote, administer, and run the project)
– Quadric Project Participants (individuals who commit to volunteer for a single charitable opportunity)
– Quadric Project Contributors (organisations who may have goods and services to offer)
– Quadric Project Recipients (organisations that can receive charitable donations or require assistance)
If you are interested in engaging with the project or just want to know more, click here for contact details.
Below is some featured activities of The Quadric Project.
Headspace Foundation

Headspace is the National Youth Mental Health Foundation providing early intervention mental health services to 12-25 year olds.  The service is designed to make it easy as possible for a young person and their family to get the help they need for problems affecting their wellbeing. This covers four core areas: mental health, physical health, work and study support and alcohol and other drug services.  United Synergies is the lead agency for Headspace Caboolture and through representation from Incite PM, commissioned Quadric to construct the new 375m2 space.
Closing the Gap – a Win for all Parties

On behalf the Queensland Department of Justice and Attorney General, Quadric performed an upgrade to the Youth Justice Centre Building in Cherbourg.  The project consisted of structural modifications, external earthworks, internal alterations, security services, and custom joinery.  A key driver for the project was Indigenous economic participation, training, and community development.
Online enquiry
Fields marked * are mandatory.