Quadric is a leading builder of healthcare fitouts. Our portfolio includes several large-scale projects in this sector. From hospitals to private clinics, we know how to work with different medical organisations. Our team can be trusted to deliver an impeccable standard of craftsmanship while managing your project effectively.
Collaborative Approach
Collaboration is the key to delivering innovative medical fitouts. Rather than disregarding our client's ideas, we strive to foster a cooperative environment. From designing your fitout to maintaining it post-build, we consult our clients at every point in the project.
Quadric understands the highly important role that healthcare institutions play in the community. Delays aren't just an inconvenience in this sector; they can also put a strain on resources. In order to complete healthcare fitouts in a timely manner, we do everything in our power to ensure the building process runs smoothly. Through communication, we can avoid the most common drawbacks associated with construction projects. These include miscommunications, interruptions and unexpected costs.
All-Inclusive Service
Medical fitouts often come with specific requirements. Even if your fitout is quite complex, Quadric can complete all of its components for you. Our team members are trained in a range of professional specialisations, so we can complete your fitout in-house. This means you won't have to engage with multiple builders to get the job done.
Quadric's services include:
• Commercial Joinery
• Carpentry and cabinet making
• Painting
• Plastering
• Architectural design
• Project management
• Site labour
• Ongoing maintenance.
All of Quadric's building solutions are designed to be fully customisable. Whether you need to build a waiting room or an entire hospital wing, each of these services can be modified to suit your requirements.
Are you unsure as to whether our services will cater to your specific needs? Quadric's project portfolio can help you better understand our capabilities.
Our past work includes several healthcare industry projects, including the fitout we created for the Headspace Foundation. This project serves as the perfect example of our ability to create innovative spaces within the healthcare sector. Its refurbishment needed to incorporate 4 different core areas: mental health, physical health, work and study support, and drug and alcohol services. We were able to successfully create a fitout that included each of these areas, providing the community with comprehensive mental health facility.
Quadric has also worked on the Southport Health Precinct, the Queensland Fertility Group Facility, and numerous other healthcare industry projects.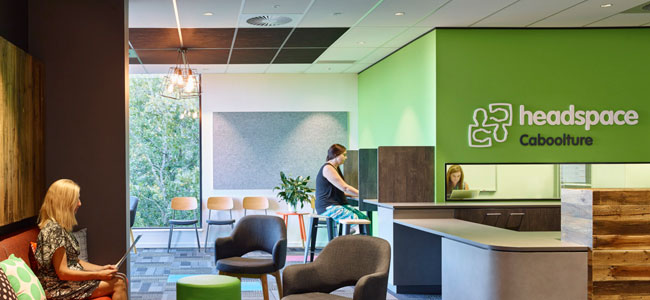 Cost Management
Managing costs is one of the most challenging aspects of building a healthcare fitout. No matter how much money you have, a poorly planned budget can easily derail your project. Without the help of a professional builder, you may struggle to accurately estimate expenses. Quadric have been planning fitouts for over 30 years, so you can trust us to manage your budget effectively.
To learn more about how our healthcare fitouts work, contact Quadric today. With offices located all over Australia, getting in touch with us is easy. Simply call or email your nearest office.